What can I say? I love a tag, even when it's got an absurd name. This originated over on Youtube and I decided to do it after watching Wiebke's video. Even though I've only read 12 new-to-me books so far this year, I still thought it would be fun to talk about the ones I have read. (I'm excluding rereads, because, let's face it, my Lord of the Rings reread would provide the answers to most of these questions otherwise). This post contains SPOILERS for A Company of Swans by Eva Ibbotson.
1.Best book read so far in 2017
I really, really loved Station Eleven by Emily St John Mandel. I'm in the process of writing up my thoughts, but suffice to say that it lived up to (and even exceeded) the hype.

2. Best sequel so far in 2017
Not sure if this entirely counts, since it came out in 1975, but I finally read the last Poirot book, Curtain. A remarkable ending to the series–maybe the best Poirot novel I've read other than Murder on the Orient Express.
3. New release you really want to get to
Don't be a Dick, Pete by Stuart Heritage. This memoir/biography chronicles the author's relationship with his younger brother, in childhood and adulthood. Stuart describes himself as quiet, bookish, hardworking, conscientious. His younger brother, Pete, likes to do Ironmans and has an entire group of friends who know him as "Shagger". We all know a Pete. I am very curious about this book. (I also feel strongly that neither fiction nor non-fiction pays enough attention to sibling relationships, so this is a good start).


4. Most anticipated release for the second half of the year
I'm very excited about reading Roxane Gay's Hunger, which is not yet out in the UK. Although I had mixed feelings about Bad Feminist, I thought that Gay's writing was strongest when writing about her relationship with food and her body (or Scrabble).


5. Biggest disappointment
Okay, I really hated A Company of Swans by Eva Ibbotson. I read it entirely because I came across this quote online:
Loneliness had taught Harriet that there was always someone who understood – it was just so often they were dead, and in a book.
What a great line. Who hasn't felt like that? And the beginning of the book was so promising–lonely, awkward girl runs away from a repressive household to be a dancer. Very different from what I normally read, but interesting. However, the minute the love story started, I was bored to tears. It was saccharine and completely implausible, followed by Harriet sacrificing every ounce of her carefully-won freedom for a man who treats her–at least to start with–like a thing. Yuck.


6. Biggest surprise
Though I haven't actually finished reading it yet, I think The Golden Age of Murder by Martin Williams probably claims this title so far. It's a non-fiction chronicling of the adventures of the Detection Club (including such famous names as DL Sayers and Agatha Christie), and the surprising thing about it is how remarkably non-cosy the lives of so many members were. It's a really fascinating read.
7. Favourite new author (debut or new to you)
It takes years for me to develop a favourite author. They have to have written multiple books, most of which I need to love; they need to become people whose writing I go to in times of stress; their books need to withstand multiple rereads and become old friends. In short–no favourite authors this year, at least not so far.
8. (I'm omitting this strange question about "fictional crushes", which is a concept I've never really understood).
9.Newest favourite character
This is a tie. I loved August and Frank, both Station Eleven characters. I also loved Tunde, in The Power by Naomi Alderman–he was the only character I really cared about by the end of the novel.
10. Book that made you cry
I tend to be a fairly easy cry, but actually not that many books have accomplished that this year. In fact, I don't think any have. The one that came closest was probably Salt to the Sea by Rutya Sepetys, since it was describing a real-life maritime disaster and some of the scenes were very convincingly depicted.
11. Book that made you happy
As I've previously written, Shades of Milk and Honey is a completely stupid, utterly delightful book. I laughed a lot while I was reading it, though I'm not sure I was meant to.

12. Best book-to-film adaptation
I don't think I've seen any book-to-film adaptations for the first time this year. I rewatched Bridget Jones' Baby, which might just be my favourite film in the series. Does that count? Alternatively, I have been watching the Miss Fisher's Murder Mystery series almost on a repetitive loop this year. I haven't actually read the books it's based on, but I love the show so much. It's just so good. (I'm even invested, believe it or not, in the romance between the two main characters. Shocking, I know).
13. Favourite review you've written this year
Not so much a review as an out-and-out love letter: this post about Lord of the Rings.
14. Most beautiful book you've bought or received this year
In terms of external appearance, I think that Salt to the Sea has a really stunning cover.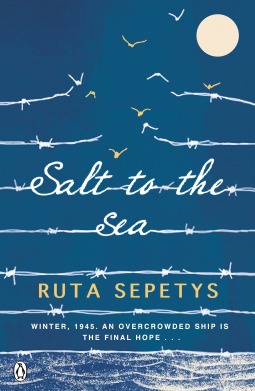 15. What books do you need to read by the end of the year?
I don't need to read any books by the end of the year. Reading is for fun. Having said that, there are a few books I'm keen to get to: My Name is Leon, by Kit de Waal; the four-part Boudica series by Manda Scott that I picked up at a charity shop; Shanghai Girls, by Lisa See.
---
This was fun! Like I said, I am a sucker for a tag, and I hadn't done one in a while. What have been your reading highlights so far this year?