Yes, it's actually happening. Nearly halfway through the year, I am finally reviewing the first (and shortest) book from my TBR Pile Challenge list, of which I had planned to read one a month. Who knows? Maybe I'll still finish them all, though it's looking unlikely. Anyway, Agatha Christie's Death on the Nile has been lingering on my shelves in a battered second-hand edition for years, and I finally got around to reading it in April.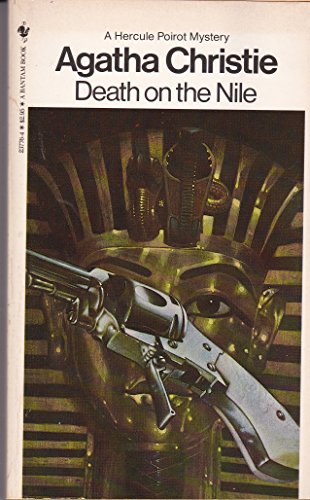 Death on the Nile is a Poirot mystery, set in Egypt. Hercule Poirot is on a cruise up the Nile, when a young woman on board is killed. Naturally, he sets about trying to solve the mystery, which is complicated by a number of red herrings, much interpersonal drama, and a moderate amount of drunken behaviour. I really enjoyed this novel, though I found it slightly darker than the average Poirot outing – nothing close to Curtain, though.
Unlike many Poirot novels, we have to wait until nearly halfway through the book before the murder actually occurs. The first section of the novel is spent establishing that everyone has a motive for the crime – and even throwing doubt on who the victim will be. In the blurb of my edition, the victim isn't named, and I think that probably added to the undertone of menace – I was waiting for someone to be bumped off, carefully watching everyone to see who would turn out to be a murderer, and generally trying (and totally failing) to piece together the clues before the murder actually happened. I often manage to pick up on a few clues in a Christie novel, and sometimes I have actually guessed part of the solution, but rarely if ever have I figured it out completely before the denouement at the end. In this instance, I didn't pick up on anything at all – the ending came as a complete shock to me. I'm not sure if I was just particularly slow this time around, or if the ending was more thoroughly obfuscated, but either way it was a good surprise.
I also enjoyed the very slight glimpses into Poirot's tragic romantic past that we get in this novel. Christie does not generally give much backstory for her characters, but Poirot is always very sympathetic to young lovers, and it's hinted across many books that it's because of a woman in his past. In this particular outing, Poirot's sympathies are immediately engaged by a young woman whom he first sees out at a dance with her fiancé, and whom he immediately thinks "loves too much". His concern for the girl and highly romantic nature (in contrast to Miss Marple's cynicism) are threaded throughout the book, and I think this is one of the books where we can most clearly see Poirot's flaws. By this point, Christie was getting frustrated with her extremely popular detective, and I think that comes through in the writing – Poirot, never exactly backwards in coming forwards, is especially preening and arrogant here. That makes his perspective an extremely interesting one to read.
In short, I really enjoyed this. I think the puzzle is clever, and the side characters are better developed than on average from a Christie novel. (Except Colonel Race. The Goodreads summary tells me that Colonel Race is in this novel, but I cannot for the life of me remember anything he did. Maybe he is just not a very memorable character). Given that it's set in Egypt, there isn't much in the way of atmosphere or setting, but that's a minor quibble. I read this during the readathon and absolutely raced through it.
While I'm on the subject of Poirot, I wanted to signpost anyone who's interested to an Agatha Christie podcast that I've been enjoying. All About Agatha is a podcast where two Christie superfans read through all the novels in chronological order (punctuated by short stories) and review and discuss them. I could do with a bit less annoying Anglophilia (both hosts are Americans and keep pointing out things that are cute and quaint about the UK, swooning over clips from Poldark, and referring to things as "antiquated" that still very much happen here). They also sometimes spoil books they've previously discussed – which, since I am reading these in the very scientific order "recently available in local charity shops", is a bit of a pain. Overall, though, I enjoy their analysis and like the fact that they are taking Christie's work seriously. If you like listening to literature discussions, you may want to give it a try!