It seems like tempting fate to announce my participation in a blogging event that is still nearly three weeks away, given my track record with them (plus the fact that I'm currently a good week behind with everyone's blog posts as it is). Still, I love Nonfiction November, yet every year it takes me by surprise when it arrives. This year, therefore, I am actually planning to participate, rather than just writing my posts at the last minute and getting distracted before the end of the month. I'm hoping to use this month as a way to get to some of the nonfiction reads on my various challenge lists, as well as pairing it with German Literature Month for some translated nonfiction. (Thank you Rennie for giving me some recommendations of German nonfiction!) Here's what I am hoping to get to, all things being equal.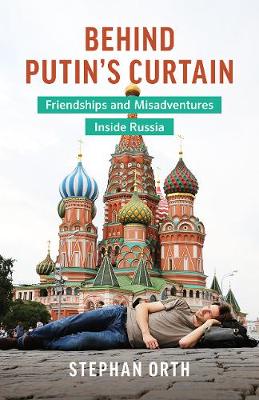 Behind Putin's Curtain: Friendships and Misadventures inside Russia by Stephan Orth (trans. Jamie McIntosh)
Excitingly, this is a three-in-one deal: it's nonfiction, translated from German, about the author's travels around Russia – so although it wasn't part of my original In Lieu of Travel challenge, it definitely meets those criteria. I'm interested to get a view on current events in Russia from someone who isn't English, North American, or Russian.
A Woman in Berlin by Anonymous, trans Philip Boehm
This is the story of a woman living in Berlin (as the title implies) during the early days of the Soviet occupation, based on diaries she kept at the time. I have been meaning to get to this for a long time, but am also a little apprehensive about it as it has a reputation for being – understandably – quite harrowing.
Mongolia: Travels in the Untamed Land by Jasper Becker
I know almost nothing about this book, but El Rhodes on Twitter recommended it to me as a good introduction to the area, and then kindly gave me a copy when we met at the London Bookshop Crawl in February 2020. Late February 2020 now feels like part of a very distant past, doesn't it? Like Behind Putin's Curtain, this is part of my In Lieu of Travel challenge – it will be my first read for Mongolia.
Home Cooking: A Writer in the Kitchen by Laurie Colwin
I've been wanting to read this culinary memoir for a long time – it's one of the classics of food writing (and is, indeed, on my Classics Club list), and I'm not sure why I haven't got to it before. Perhaps because I can't stand the most recent cover – a twee one with a pot of jam and rom-com font. I much prefer this older edition, and have just purchased a copy of it.
Four books is probably enough planned reading for one month! I'm really looking forward to reading everyone's posts. If you're curious about the event and want to find out more, you can find the announcement post here.