*humming* It's the most wonderful time of the year… In all seriousness, I love November for many reasons: personally I am fairly into dark, rainy evenings that allow me to stay huddled up with a book and a blanket, or alternatively with a friend and good food; I enjoy the planning and preparation for Christmas, with Southampton's inevitably rubbish Christmas market starting and a much better one in Winchester; it's my brother's birthday and this year will also be his delayed 2020 graduation ceremony, so I'll get to see my family; and, of course, it is the month of Every Reading Challenge Known to Man. Each November, my WordPress reader absolutely teems with a celebration of novellas, Australian authors, German literature, nonfiction, and probably some other challenges that I don't even know about yet. This is a delight and a pleasure. Anyway, this week's post is hosted by Rennie at What's Nonfiction, so let's get on with the questions!
What was your favourite nonfiction book of the year?
This is a particularly difficult choice this year, because almost all the nonfiction I've read has been great, but ultimately I think it has to be The Anthropocene Reviewed. Because of the way it combines absolute frankness with carefully-grounded hope, within the pandemic context, I think this is a book I will always remember when I think about this very strange time. I believe John Green has said that he now intends to return to writing fiction, but I hope he writes some more essay collections in the future because he is very, very good at it. I'm still planning to buy the paperback copy – for some reason I can only find it on Amazon right now and I'd rather not give them a second payment for the same book – and revisit some of the essays.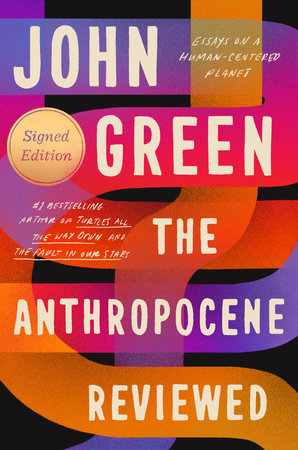 It is, however, hard to completely discount The Whale and the Cupcake and The Butchering Art, both of which were absolutely fantastic, so consider those my runners-up. (It was the fact that I wanted to mention The Butchering Art in this post that prompted me to actually tidy up my review and post it).
Do you have a particular topic you've been more attracted to this year?
I've only read seven nonfiction books this year (discounting those I've read for work), and they are all on different topics. I am gradually starting to read health and medical nonfiction for pleasure again, but it doesn't outweigh other topics like it might in a normal year. I've bought a lot of gardening books during assorted fits of optimism; does that count? Here are some of the gardening books I've acquired (the only one I've actually read so far is Grounded):
Veg in One Bed – Huw Richards
Joe's Allotment – Joe Swift
The Essential Allotment Guide – John Harrison
Most of these have come from charity shops, which are, I am discovering, an absolute goldmine for gardening books. Joe's Allotment is actually from the library, and I just keep renewing it. Oops. Maybe I'll read it this month! I'm on the look out for a decent garden planner or journal – I bought one online and found that it didn't really have enough detail or page space for my liking, so if anyone has any recommendations let me know!
What nonfiction book have you recommended the most?
You know, I don't think I really have recommended much nonfiction this year (other than The Anthropocene Reviewed). I've been recommending novels left and right!
What are you hoping to get out of participating in Nonfiction November?
The same thing as ever, really – the chance to talk about some exciting nonfiction with blog friends, old and new, and hopefully a few recommendations of new books to love!